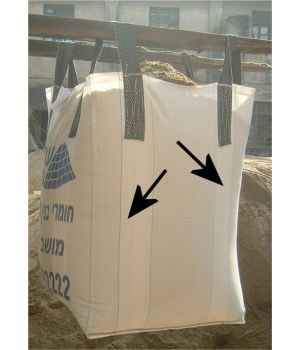 PP Bulk Sack (Ton Sack)
We customize bulk sacks or ton sacks that are flexible intermediate bulk containers to meet the individual requirements. They can be used for carrying bulk cargos. With precise design and construction standards, these bulk sacks are also ideal for a wide range of end products like sand, dyes, cement, chemicals and others.
Our company is one of the major fabrics and woven sacks manufacturers in China. We can offer customers with various kinds of PP ton sacks or container sacks, with capacities ranging from 500KG, 1000KG, to 1500-3000KG.
Uses of Bulk Sack:
These PP ton sacks are suitable for a wide assortment of end products, such as sand, cement, animal feeds, coal, chemicals, fertilizers, minerals, grains, construction materials (sand, gravel), pigments, plastics, seeds, peanuts, starch and etc.
Features:
1. Our PP bulk sacks are moist-proof, dust-proof, radiation resistant, reliable, and with high strength.
2. Ton sacks are widely used as an economical and dependable way for the transportation and storage of all types of materials (loose or granulated).
3. Simple structure, light weight, foldable, storage-space saving, very affordable price.
4. Fast and efficient distribution.
5. Saving transport costs and storage space.
PP Bulk Sack