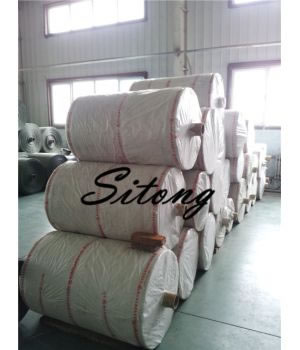 Circular Woven Fabric (Narrow Width)
In addition to PP woven bag, we also manufacture and supply circular woven fabric (Narrow Width). We are specialized manufacturing circular fabrics from synthetic fibers in China. Our polypropylene woven fabrics are widely used for making woven sacks and sacks.
We adopt advanced circular looms and tapes lines to produce these circular woven fabrics and tapes. The circular woven fabric can be converted into flat fabric, should the need arises.
They are coated by using the tandem lamination plant. In addition, these products will be tested by our quality control department to make sure they meet the international standards.
We can manufacture fabric in rolls or tubes with diameters ranging from 20 to 1200mm. Different materials can be used as per customer requirements.
For coating:
Circular woven fabric we use tandem lamination plant.
Flat woven fabric we use flat lamination plant.
Following are the features of the polypropylene woven fabric offered by us:
UV stabilized
Durable
Low maintenance
Product:
Technical Parameter:
Basis Weight: from 50gsm to 140gsm
Width: from 25cm × 2 to 90cm × 2 (circular)
Color: as per customer requirement
UV stabilized: yes (if requested)
Packing: rolls of 1000 to 5000meter (or as per customer requirement)
Lamination: yes (if required)
We would be pleased to arrange a meeting with you to check if our circular woven fabric that you need can be manufactured. If you need, we can send you a sample and carry out the corresponding texts for you.